Platelet Rich Fibrin Columbus, Ohio
PRF (Platelet Rich Fibrin)
A new way to make collagen! Platelet Rich Fibrin works by utilizing your own natural platelets to instruct the body to create new collagen for firm, smooth and radiant skin. Don't wait, schedule Platelet Rich Fibrin treatment in Columbus, Ohio now!
What is PRF? PRF Rejuvenation is a simple in-office nonsurgical procedure which uses a concentrated serum processed from your own blood. The serum is applied to the surface of or injected into the skin to increase its healing and rejuvenating properties.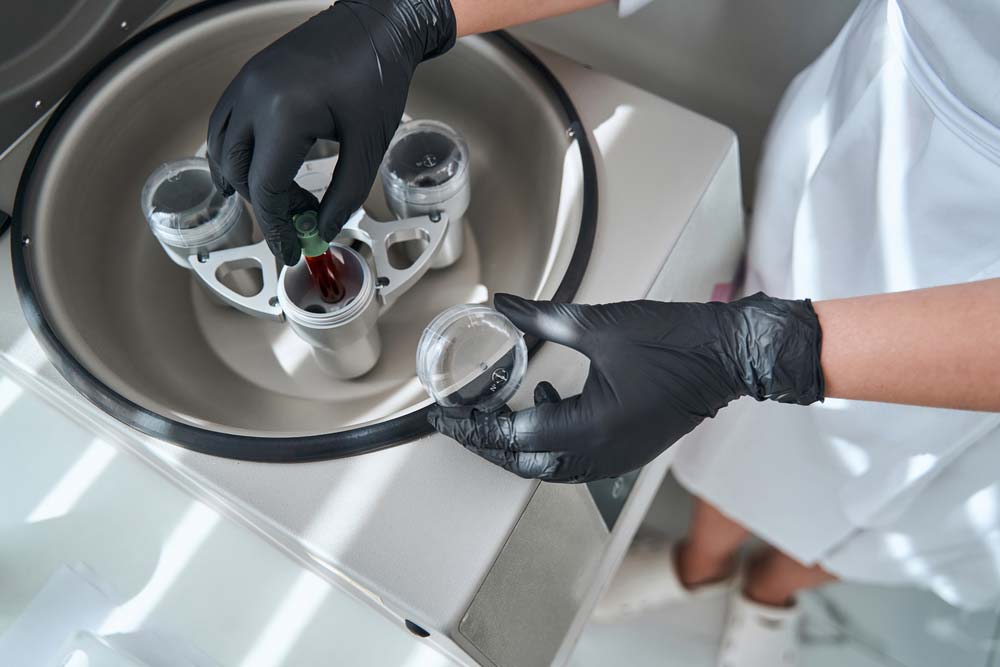 How does it work? A small vial of blood is taken from your arm – less than that normally taken for routine blood tests. The blood is spun in a centrifuge to separate the red blood cells and fibrin. The process concentrates the platelet count to about 4X normal. It is this platelet-rich fibrin that is used in or on your skin to enhance the shape of your face and restore volume to it. The rejuvenation process can begin quickly and can result in a thicker dermis and softened wrinkles or scars. Microneedling can be used in combination with PRF. This helps to carry the serum into the skin. The small channels in the epidermis close very quickly and the skin then begins a healing response. Depending on the depth of the microneedling you may see only redness or you may experience some pinpoint bleeding which spots quickly. It also can be used in conjunction with dermal fillers to increase the effectiveness and longevity of the filler. Advantages of PRF Rejuvenation Uses your own natural platelets – no risk of allergic reaction. Natural collagen is formed in response to the activated platelets PRF is ideal for patients who do not want synthetic fillers. There is little to no swelling, bruising or lumping PRF can enhance procedures for faster, improved healing provides outstanding results with minimal downtimes.
Platelet Rich Fibrin Columbus, Ohio
Average rating:
9 reviews
Nov 16, 2022
Best skin care service!
I've been going to Annette for my dysport since I've started to get injections and she always does a phenomenonal job! Not only is Annette The sweetest person ever but she also educates you on the skin care you receive 🙂
Nov 16, 2022
Absolutely amazing Platelet Rich Fibrin service!
Annette has been absolutely amazing with my skin care. She is so nice and takes time to listen and answer all questions. I have added some before and after pics. So far I have had the VI Peel and dysport/Botox, along with Obaji skin care products. I had a heavy crese in between my eyes that I was so uncomfortable with. As you can see the crese is gone. I 1000% recommend Saveskin. Thanks again for getting my self esteem back, Annette!
Nov 16, 2022
Best Platelet Rich Fibrin service in Columbus, Ohio! A+++
Annette is the best! Being someone afraid of needles, she totally calmed my nerves! She thoroughly explained everything and made it a great experience! I am so happy with my results!
Nov 16, 2022
Best Platelet Rich Fibrin in Columbus, Ohio
I have the best and experience first time when I walk in, I was a little nervous and a little bit embarrassed about my skin, but she is so nice . She explain me all the processes about asking care. What was the best for me and first time I did my vi peel and I love it. I don't regret it. I been with her for probably three years she always available. Even if you have any questions she always get back you
Nov 16, 2022
Amazing service from SaveSkin!
I have been back time and time again and will continue to seek Annette's services! She is super knowledgeable and does everything she can to make your experience comfortable and specific to you!
Nov 16, 2022
Amazing service from Save Skin Medi Spa
Annette is seriously amazing!!!! She taught me SO much about my skin, and made me feel so comfortable. Very professional and highly recommend!!! She's the best!!
Nov 16, 2022
Simply the best Platelet Rich Fibrin in Columbus, OH
Highly recommend Annette!! She is amazing, professional, and provides high quality services! I have recommended her to all my family and friends! She is always willing to book an appointment quickly and takes her time with me as she walks step by step on her services. She always goes above and beyond for her clients! She explains everything in perfect detail and never pressures you to purchase treatments your not interested in! Her high quality work has boosted my self confidence since I've been seeing her!! It is evident that she wants you to make sure you feel your best! She is the BEST and I will continue to go back to her! HIGHLY recommend!!
Nov 16, 2022
Best Platelet Rich Fibrin in Columbus, OH
Annette has been treating my daughter for about 30 days now. Annette and her staff helped my daughter overcome her insecurities about her skin. Super laid back environment. Very professional. My daughter's skin has improved 100% in a very short period of time. We could not be happier with the service.
Nov 16, 2022
Get the best service on Platelet Rich Fibrin in Columbus, OH
Annette is an amazing NP. Very educated, a great aesthetic provider. Highly recommend!