About

SaVéSkin

(sa veh skin)
At SaVéSkin Medi Spa, it is my mission is to create an environment where I can provide excellent and safe patient care to achieve each individual's personal aesthetic goals. My faith and beliefs have long guided me to help others. I have five years as a Nurse Practitioner and over ten years of nursing experience in adolescent psych, nephrology, clinical research, primary care and urgent care. I cannot explain how excited that I am to be able to help women, men and adolescents lift their confidence while practicing aesthetic medicine, my personal passion.
My journey in skincare began as long ago as middle school and as my skin aged, I struggled with adult acne, decreased collagen, dullness, sun damage, melasma, fine lines and wrinkles. Aesthetic medical care has given me the ability to erase years of aging while keeping my God given features.
Whether you are new to aesthetics or a seasoned veteran, I cannot wait to show you what SaVéSkin has to offer to help you to restore and enhance your natural beauty! I stand by keeping it: Simple. Subtle. Beautiful.
We are an aesthetics spa that proudly provides amazing skincare in Gahanna, Ohio, so plan your visit with us today!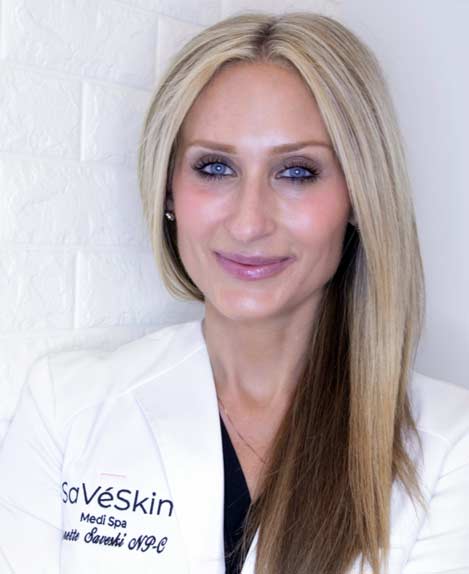 Annette Saveski, MSN RN FNP-C
Before starting my very first medical grade chemical peel, my skin did not look and feel healthy. After the first application I could feel a difference. Nothing painful about the peel! I couldn't believe it. After day one and two, I started peeling as Annette stated that I would. The 7 days went by vey fast! My skin is glowing, feels tighter and does not look dry nor do I have any more unwanted breakouts. I am so happy I went with the Vi Peel at SaVéSkin! I hardly wear any foundation anymore!
"I'm so happy, my skin gets better and better everyday! From my RF Microchanneling and PRF to my IPL, I couldn't be more impressed. I look and feel 20yrs younger! Thank you!"
"In the midst of my Vi Peel! Love it! Taking care of all my age spots, bumps and marks that have become more pronounced over the years! Would and absolutely will do again! Thanks so much Annette!"