IPL Photofacial Columbus, Ohio
IPL (Intense Pulsed Light) Photofacial Columbus, OH
Get the best IPL photofacial in Columbus, Ohio!
What is it? Our Photofacial treatment uses pulses of IPL (Intense Pulsed Light) to reverse signs of aging by altering your skin at the cellular level. Photofacials are relatively painless, by creating a feeling similar to a snapping rubber band. This treatment has been FDA approved and it is also considered one of the most effective non-invasive rejuvenating treatments for aging skin. Photofacials are typically used to treat minor imperfections such as skin discoloration, sun damage, brown spots, acne scars, and rosacea.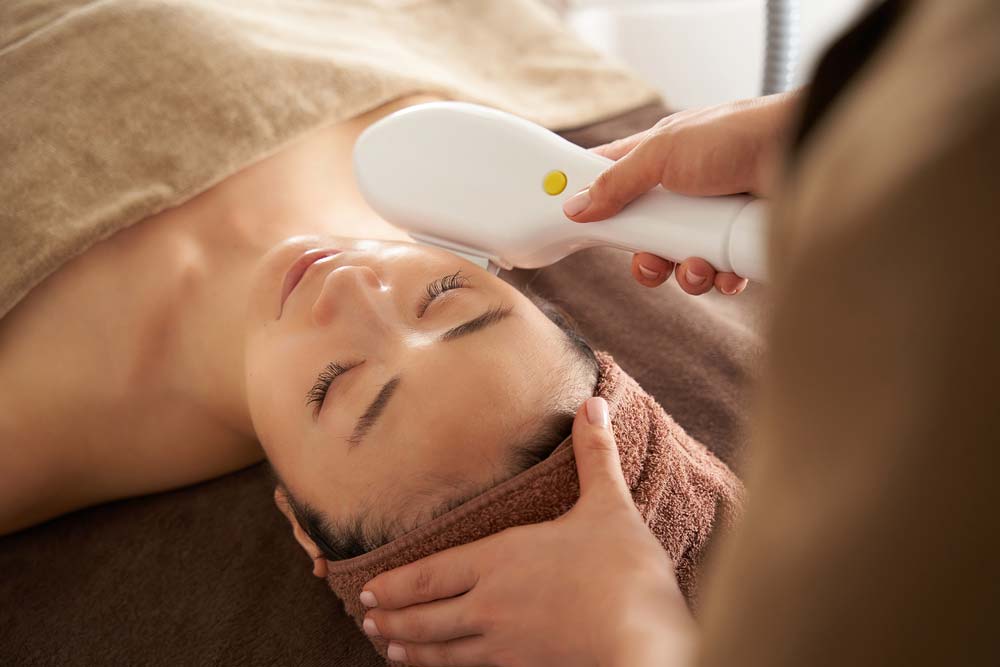 What Can You Expect With our Columbus, OH Photofacial?
How does a Photofacial work? Over time, due to aging and other factors, the layers of your skin weaken and can appear thin, wrinkled, rough & blemished. Photofacials address imperfections in a safe and gentle manner, with results that improve over time as the skin thickens and becomes healthier. When you get photofacial treatment in Columbus, Ohio, there will be pulses of light are directed over the skin it will reach deeper layers of the skin, which repairs damage and prevents future signs of aging. This is sloughing off the superficial layer of the skin to reveal younger cells, stimulation of collagen growth responsible for creating structure, and rejuvenation of the genes of the affected skin! After only 3-4 photo facials per year, your skin will improve.
What to Expect? The procedure can take around 30 minutes. Slight swelling and redness for 24-48 hours are the most you'll see as a side effect. You can go right back to whatever you were doing before the procedure, as there is no downtime to follow. Call us now: (614) 304-1709 to schedule a photofacial treatment in Columbus, Ohio.
When will I see results? After one facial, you should expect to see and feel smoother skin. Age spots initially become darker and then move to the skin's surface where they fall away as part of the skin's natural exfoliation process. Skin and pores feel and look tighter, while fine lines and wrinkles slowly decrease in size. Most clients tend to start on the facial area but once they start to see the results, they tend to travel to other problem areas: including the neck, shoulders, and chest.
Photofacial Columbus Ohio
Average rating:
9 reviews
Sep 29, 2021
Customers definitely get the results!
I highly recommend SaVéskin! It is evident that Annette is in this business to help others gain confidence. You can tell she truly cares about her clients. She goes above and beyond to ensure her customers get great results. SaVéskin also has great products. I had done a facial at another spa before and much prefer the VIPeel. It would have taken me multiple peels with the other product to achieve the same results of one treatment.
Sep 29, 2021
Impressed by the results!
I've used a few services at SaVeSkin, and I'm impressed by the results. My skin looks great and youthful. Annette is amazing! She is very patient; she listens, suggests, and explains every procedure very well. The office is spotless and inviting.
Can't imagine going anywhere else!
Sep 29, 2021
Totally recommended Photofacial services!
Positive: Communication, Professionalism
Annette was amazing! She listen to my concerns about my skin and my ultimate goals. She recommended a skin treatment and also did a Vi Peel. Love the results! She know her business. I totally recommend her.! Coming back next month!
Sep 29, 2021
Experience was fun and results were amazing!
Positive: Quality
I have a VI Peel done with Annette. My results have been amazing! My skin is clearer, my pores are smaller, and my fine lines have softened. Plus she is so easy to talk to and makes the experience fun.
Sep 29, 2021
Amazing service!
AMAZING! I received a chemical peel service from Annette and she talked me through everything and made me feel more confident about the service. Definitely will be going back.
Sep 29, 2021
At ease and extremely comfortable!
Positive: Communication, Professionalism, Quality
Annette was extremely knowledgeable and professional. This was my first experience with a peel and she made me feel at ease and extremely comfortable. I highly recommend and will definitely be back for more services.
Sep 29, 2021
Feel better and look amazing!
Positive: Communication, Professionalism, Quality
Annette was amazing. I was unsure where to start with my skin care and she helped me understand what the different types of procedures and treatments were and helped me make my decision. I never felt she was trying to sell me more product or treatments. I will definitely go back! My skin feels and looks amazing now!
Sep 29, 2021
Results are amazing!
Positive: Communication, Professionalism, Quality
Annette has been a nurse practitioner for years. She's very knowledgeable, highly qualified and professional. She really takes her time to get to know you and your skin and what you would like to improve. Her results are amazing. Thank you Annette!
Sep 29, 2021
My confidence has risen!
I am so happy with how I look and feel after visiting Saveskin Medi Spa! My confidence has risen! After my VI Peel my skin feels amazing! Nothing painful about this medical grade peel. I recently went back in for a fuller lips. I had the KYSSE injections. I can't stop smiling! I do truly feel Simple. Subtle. Beautiful. Thank You!