Hair Restoration Columbus, Ohio
Who is it for? Patients who are experiencing thinning hair can achieve a full head of hair safely and naturally using Platelet-Rich Fibrin for hair restoration. This revolutionary treatment involves the use of PRF to stimulate the body's own hair growth. This procedure can be performed on an outpatient basis and requires little-to-no downtime. This treatment is best done in series of 4-6 treatments and packages are available. Individual results may vary.
Benefits of PRF for hair restoration: Can reduce shrinking of hair follicles Provides positive results for both men and women. Benefits are seen gradually over time, making it less likely others will notice you've undergone a procedure that stimulates the growth of hair follicles. Contact us today to schedule hair restoration in Columbus, OH.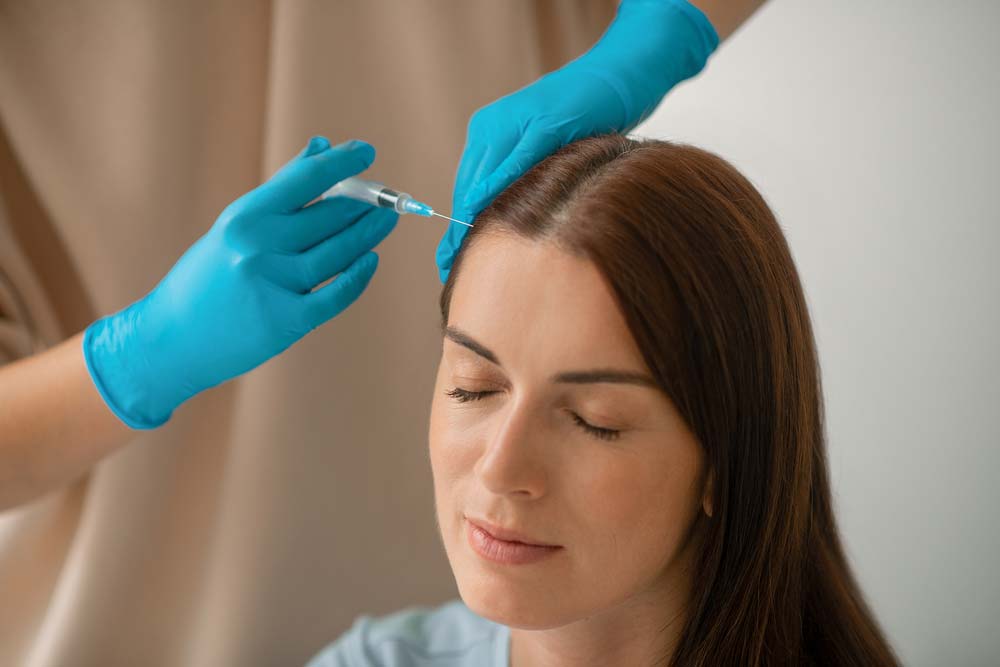 About SaVéSkin
(sa veh skin) – At SaVéSkin Medi Spa, it is my mission is to create an environment where I can provide excellent and safe patient care to achieve each individual's personal aesthetic goals, including hair restoration treatment. My faith and beliefs have long guided me to help others. I have five years as a Nurse Practitioner and over ten years of nursing experience in adolescent psych, nephrology, clinical research, primary care and urgent care. I cannot explain how excited that I am to be able to help women, men and adolescents lift their confidence while practicing aesthetic medicine, my personal passion.
My journey in skincare began as long ago as middle school and as my skin aged, I struggled with adult acne, decreased collagen, dullness, sun damage, melasma, fine lines and wrinkles. Aesthetic medical care has given me the ability to erase years of aging while keeping my God given features. Whether you are new to aesthetics or a seasoned veteran, I cannot wait to show you what SaVéSkin has to offer to help you to restore and enhance your natural beauty! I stand by keeping it: Simple. Subtle. Beautiful.
Hair Restoration Treatment Reviews
Find out what our customers are saying about our Columbus, Ohio hair restoration treatment! These are all authentic customer reviews compiled from Google and social media. Find out what everyone is raving about!
Hair Restoration in Columbus, Ohio
Average rating:
8 reviews
Jul 26, 2021
Customers definitely get the results!
I highly recommend SaVéskin! It is evident that Annette is in this business to help others gain confidence. You can tell she truly cares about her clients. She goes above and beyond to ensure her customers get great results. SaVéskin also has great products. I had done a facial at another spa before and much prefer the VIPeel. It would have taken me multiple peels with the other product to achieve the same results of one treatment.
Jul 26, 2021
Experience was fun and results were amazing!
Positive: Quality
I have a VI Peel done with Annette. My results have been amazing! My skin is clearer, my pores are smaller, and my fine lines have softened. Plus she is so easy to talk to and makes the experience fun.
Jul 26, 2021
Totally recommended spa services!
Positive: Communication, Professionalism
Annette was amazing! She listen to my concerns about my skin and my ultimate goals. She recommended a skin treatment and also did a Vi Peel. Love the results! She know her business. I totally recommend her.! Coming back next month!
Jul 26, 2021
At ease and extremely comfortable!
Positive: Communication, Professionalism, Quality
Annette was extremely knowledgeable and professional. This was my first experience with a peel and she made me feel at ease and extremely comfortable. I highly recommend and will definitely be back for more services.
Jul 26, 2021
Feel better and look amazing!
Positive: Communication, Professionalism, Quality
Annette was amazing. I was unsure where to start with my skin care and she helped me understand what the different types of procedures and treatments were and helped me make my decision. I never felt she was trying to sell me more product or treatments. I will definitely go back! My skin feels and looks amazing now!
Jul 26, 2021
Results are amazing!
Positive: Communication, Professionalism, Quality
Annette has been a nurse practitioner for years. She's very knowledgeable, highly qualified and professional. She really takes her time to get to know you and your skin and what you would like to improve. Her results are amazing. Thank you Annette!
Jul 26, 2021
Amazing service!
AMAZING! I received a chemical peel service from Annette and she talked me through everything and made me feel more confident about the service. Definitely will be going back.
Jul 26, 2021
My confidence has risen!
I am so happy with how I look and feel after visiting Saveskin Medi Spa! My confidence has risen! After my VI Peel my skin feels amazing! Nothing painful about this medical grade peel. I recently went back in for a fuller lips. I had the KYSSE injections. I can't stop smiling! I do truly feel Simple. Subtle. Beautiful. Thank You!