Skin Tightening Gahanna, OH
Call now: 614-304-1709 or click on the link below to book your RF skin tightening appointment in Gahanna, Ohio!
Skin Tightening RF (Radio Frequency) Gahanna, OH
Radiofrequency skin tightening treatments use a form of thermal energy to tighten the skin and stimulate collagen production, eliminating fat and reducing the signs of aging. These minimally invasive procedures can be performed at SaVéSkin Medi Spa in as little as 20 minutes with little downtime, which makes them effective for those who do not have time for comprehensive or multiple procedures.
Through the years, the skin undergoes many changes, resulting in loss of fullness or sagging. Using radiofrequency energy, SaVéSkin Medi Spa can tighten facial muscles and create definition to re-contour your face and neck! This minimally invasive procedure provides the following benefits: Tighten your chin and jawline.
An emerging and effective treatment for noninvasive skin tightening and lifting, radiofrequency skin tightening is the only technology that can stimulate collagen production. Through a series of gentle, controlled treatments, it can add definition to areas such as the jawline, neck, and decolletage. The process is completely painless and has no downtime thanks to its ability to stimulate natural collagen production.
Get skin tightening treatment in Gahanna, Ohio! The Pollogen Legned is FDA-cleared nonablative treatment device used for wrinkles, skin tightening and contouring. It targets acne scarring, texture, and skin resurfacing. This treatment is suitable for all skin types. We have the ability to use RF for skin tightening and radio frequency micronchanneling treatments.
What areas can this treatment this target?
We can use RF to tighten areas around the eyes, face, jowls, neck, abdomen thighs, buttocks, upper arms, chest, and knees.
Why RF?
RF technology helps restore collagen by erasing fine lines, reducing wrinkles, and tightening skin. It is the only technology that uses 6 RF generators which push the energy into the skin, where collagen is produced. This makes for effective collagen remodeling and tightening.
How many treatments should I expect to have?
6-8 treatments for skin tightening per area is the average, but a client may need more or less depending on his or her concerns and skin type. Clients are generally treated once every two to four weeks depending on the treatment plan.
Is there downtime?
There is no downtime for RF skin tightening treatments. Your skin may appear slightly pink immediately after, but it should fade within a few hours. You can return to your daily activities directly after your treatment.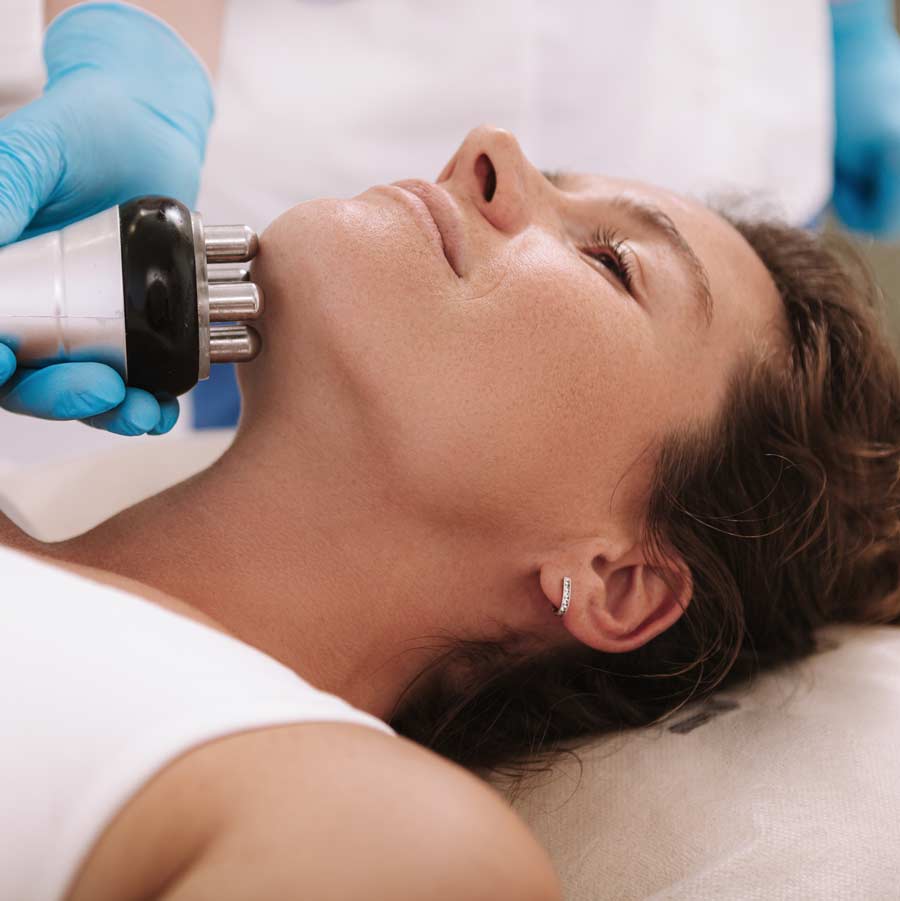 Skin Tightening is great treatment for many conditions, including, but not limited to:
Sagging Eyelids
Drooping Facial Skin
Flabby Abdomen
Flabby Buttocks
Under arm sagging
Wrinkles on face
Loose Jowls
Customer Reviews
Skin Tightening Gahanna, Ohio
Average rating:
0 reviews