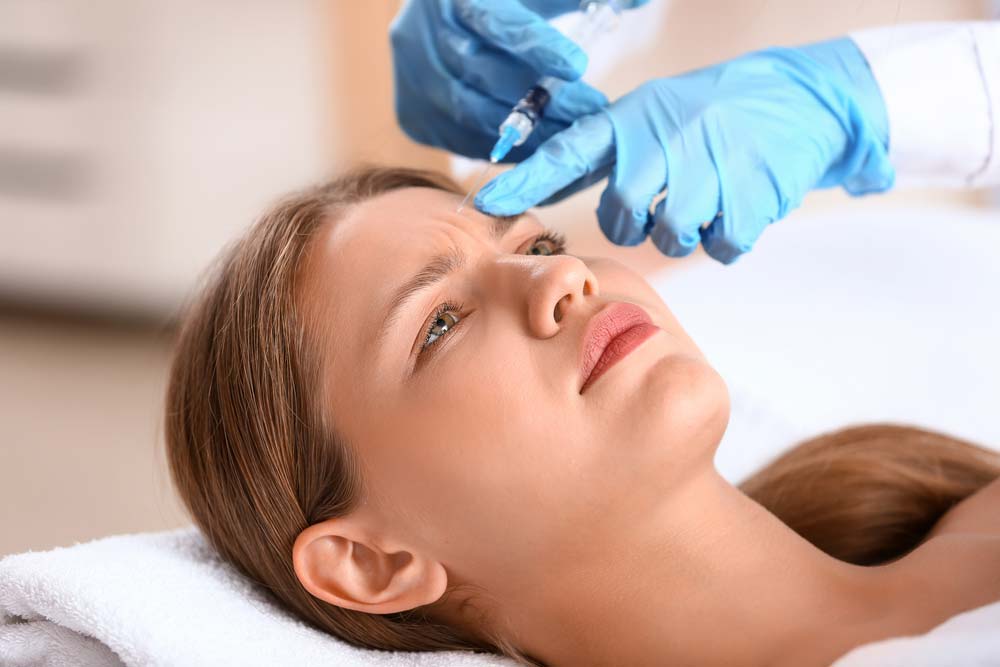 The Best Dysport Treatment in Gahanna, Ohio
Dysport injections, an innovative treatment for temporarily reducing the appearance of frown lines around your nose and mouth. Get rid of all your creases and wrinkles in a flash with Dysport – the safe, effective option for smoothing out visible signs of aging. In fact, it is the No. 1 selling non-surgical treatment for facial wrinkles in the US. Schedule your Dysport treatment in Gahanna, Ohio now!
Botox and Dysport
Botox® and Dysport® are injectables designed to smooth lines around the central brow (11's), eyes (crows feet) and forehead look softer and less noticeable. Both Botox® and Dysport® are quick and minimally invasive. We utilize a very fine needle to administer several small injections into the muscles that cause the lines. Any discomfort is minimal and brief. You can resume normal activity immediately. Results are obvious within 2-7 days and last on average 3-4 months.
Botox injections block certain chemical signals from nerves, mostly signals that cause muscles to contract. The most common use of these injections is to temporarily relax the facial muscles that cause wrinkles in the forehead and around the eyes. The lines and wrinkles often appear less severe with time because the muscles are shrinking.
Dysport is primarily used for correcting glabellar lines, the frown lines between your eyebrows. Dysport is a great option for those who have moderate to severe frown lines. Botox, on the other hand, can be used to treat many different types of wrinkles, including crow's feet, forehead wrinkles, and laugh lines. Don't wait, schedule your treatment in Gahanna, Ohio! Dysport is designed to improve the look of moderate to severe frown lines between the eyebrows. It is also used to treat cosmetic bags under the eyes and moderate to severe vertical lines on the neck.
WHAT IS DYSPORT®?
Natural-looking. Fast-acting. Long-lasting.
Information provided by DysportUSA.com: Don't let your frown lines between your eyebrows define you. For adults who want a natural look, Dysport is a natural-looking, fast-acting1-3, long-lasting1,2,4 prescription injection proven to help smooth moderate to severe frown lines between the eyebrows—without changing the look or movement of the rest of your face.
Dysport is approved in 69 countries5 and has 25 years of clinical experience worldwide.6* Find out why 97% of women treated with Dysport say they'd do it again.
Includes therapeutic and aesthetic uses
Subject's satisfaction and self-perception reported 3 weeks after treatment (n=531).
Design: Multicenter, prospective, non-interventional observational study conducted in France, Germany, Spain and the United Kingdom (n=533). Subjects were eligible if the investigator had decided to prescribe Dysport according to the labeling. Subjects completed questionnaires at 3 weeks and 4 months after treatment.
How does Dysport work?
One injection. Five points.
Dysport temporarily treats moderate to severe frown lines between the eyebrows by reducing specific muscle activity. Wrinkles are caused by repeated movements and muscle contractions.7 One injection into each of the 5 points between and above the eyebrows temporarily prevents muscle contractions that cause frown lines. In other words: natural-looking results that look and feel like you.
Customer Reviews
Dysport Gahanna, Ohio
Average rating:
20 reviews
Nov 30, 2022
Get the best service on Dysport in Gahanna, OH
Annette is an amazing NP. Very educated, a great aesthetic provider. Highly recommend!
Nov 30, 2022
Best skin care service!
I've been going to Annette for my dysport since I've started to get injections and she always does a phenomenonal job! Not only is Annette The sweetest person ever but she also educates you on the skin care you receive 🙂
Nov 30, 2022
Absolutely amazing Dysport service!
Annette has been absolutely amazing with my skin care. She is so nice and takes time to listen and answer all questions. I have added some before and after pics. So far I have had the VI Peel and dysport/Botox, along with Obaji skin care products. I had a heavy crese in between my eyes that I was so uncomfortable with. As you can see the crese is gone. I 1000% recommend Saveskin. Thanks again for getting my self esteem back, Annette!
Nov 30, 2022
Best Dysport service in Gahanna, Ohio! A+++
Annette is the best! Being someone afraid of needles, she totally calmed my nerves! She thoroughly explained everything and made it a great experience! I am so happy with my results!
Nov 30, 2022
Best Dysport in Gahanna, Ohio
I have the best and experience first time when I walk in, I was a little nervous and a little bit embarrassed about my skin, but she is so nice . She explain me all the processes about asking care. What was the best for me and first time I did my vi peel and I love it. I don't regret it. I been with her for probably three years she always available. Even if you have any questions she always get back you
Nov 30, 2022
Amazing service from SaveSkin!
I have been back time and time again and will continue to seek Annette's services! She is super knowledgeable and does everything she can to make your experience comfortable and specific to you!
Nov 30, 2022
Amazing service from Save Skin Medi Spa
Annette is seriously amazing!!!! She taught me SO much about my skin, and made me feel so comfortable. Very professional and highly recommend!!! She's the best!!
Nov 30, 2022
Simply the best Dysport in Gahanna, OH
Highly recommend Annette!! She is amazing, professional, and provides high quality services! I have recommended her to all my family and friends! She is always willing to book an appointment quickly and takes her time with me as she walks step by step on her services. She always goes above and beyond for her clients! She explains everything in perfect detail and never pressures you to purchase treatments your not interested in! Her high quality work has boosted my self confidence since I've been seeing her!! It is evident that she wants you to make sure you feel your best! She is the BEST and I will continue to go back to her! HIGHLY recommend!!
Nov 30, 2022
Best Dysport in Gahanna, OH
Annette has been treating my daughter for about 30 days now. Annette and her staff helped my daughter overcome her insecurities about her skin. Super laid back environment. Very professional. My daughter's skin has improved 100% in a very short period of time. We could not be happier with the service.
Nov 30, 2022
Impressed by the results! Dysport treatment in Gahanna, OH
I've used a few services at SaVeSkin, and I'm impressed by the results. My skin looks great and youthful. Annette is amazing! She is very patient; she listens, suggests, and explains every procedure very well. The office is spotless and inviting.
Can't imagine going anywhere else!
Dysport Pricing
1-49 $4.75/unit
50-99 $4.50/unit
100-149 $4.25/unit
150-164 $4.00/unit
165+ $3.75/unit