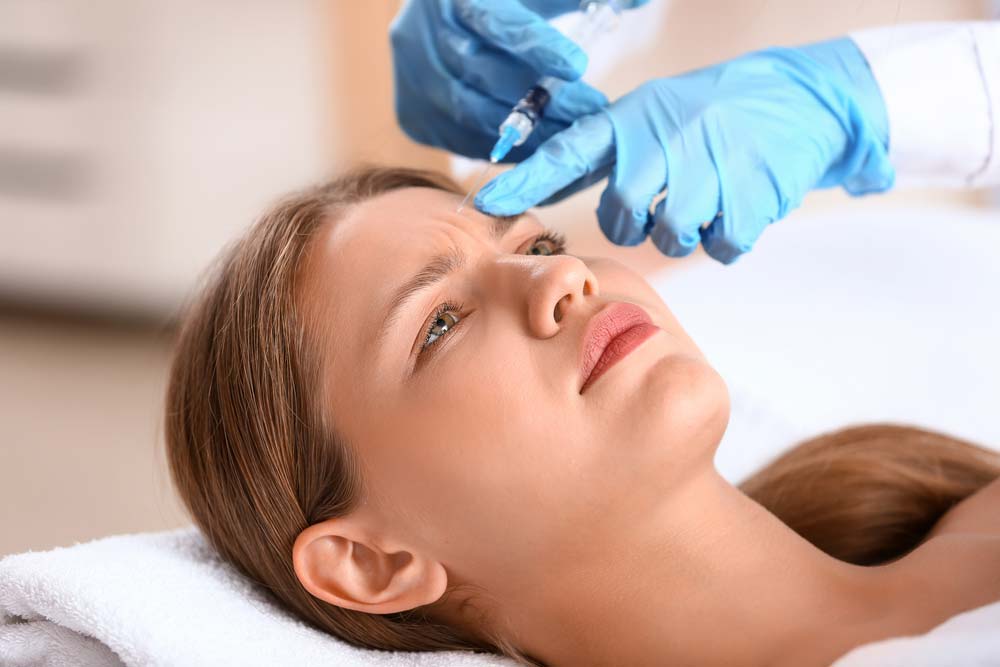 The Best Dysport Treatment in Gahanna, Ohio
Dysport injections, an innovative treatment for temporarily reducing the appearance of frown lines around your nose and mouth. Get rid of all your creases and wrinkles in a flash with Dysport – the safe, effective option for smoothing out visible signs of aging. In fact, it is the No. 1 selling non-surgical treatment for facial wrinkles in the US. Schedule your Dysport treatment in Gahanna, Ohio now!
Botox and Dysport
Botox® and Dysport® are injectables designed to smooth lines around the central brow (11's), eyes (crows feet) and forehead look softer and less noticeable. Both Botox® and Dysport® are quick and minimally invasive. We utilize a very fine needle to administer several small injections into the muscles that cause the lines. Any discomfort is minimal and brief. You can resume normal activity immediately. Results are obvious within 2-7 days and last on average 3-4 months.
Botox injections block certain chemical signals from nerves, mostly signals that cause muscles to contract. The most common use of these injections is to temporarily relax the facial muscles that cause wrinkles in the forehead and around the eyes. The lines and wrinkles often appear less severe with time because the muscles are shrinking.
Dysport is primarily used for correcting glabellar lines, the frown lines between your eyebrows. Dysport is a great option for those who have moderate to severe frown lines. Botox, on the other hand, can be used to treat many different types of wrinkles, including crow's feet, forehead wrinkles, and laugh lines. Don't wait, schedule your treatment in Gahanna, Ohio! Dysport is designed to improve the look of moderate to severe frown lines between the eyebrows. It is also used to treat cosmetic bags under the eyes and moderate to severe vertical lines on the neck.
WHAT IS DYSPORT®?
Natural-looking. Fast-acting. Long-lasting.
Information provided by DysportUSA.com: Don't let your frown lines between your eyebrows define you. For adults who want a natural look, Dysport is a natural-looking, fast-acting1-3, long-lasting1,2,4 prescription injection proven to help smooth moderate to severe frown lines between the eyebrows—without changing the look or movement of the rest of your face.
Dysport is approved in 69 countries5 and has 25 years of clinical experience worldwide.6* Find out why 97% of women treated with Dysport say they'd do it again.
Includes therapeutic and aesthetic uses
Subject's satisfaction and self-perception reported 3 weeks after treatment (n=531).
Design: Multicenter, prospective, non-interventional observational study conducted in France, Germany, Spain and the United Kingdom (n=533). Subjects were eligible if the investigator had decided to prescribe Dysport according to the labeling. Subjects completed questionnaires at 3 weeks and 4 months after treatment.
How does Dysport work?
One injection. Five points.
Dysport temporarily treats moderate to severe frown lines between the eyebrows by reducing specific muscle activity. Wrinkles are caused by repeated movements and muscle contractions.7 One injection into each of the 5 points between and above the eyebrows temporarily prevents muscle contractions that cause frown lines. In other words: natural-looking results that look and feel like you.
Customer Reviews
Dysport Gahanna, Ohio
Average rating:
0 reviews
Dysport Pricing
1-49 $4.75/unit
50-99 $4.50/unit
100-149 $4.25/unit
150-164 $4.00/unit
165+ $3.75/unit